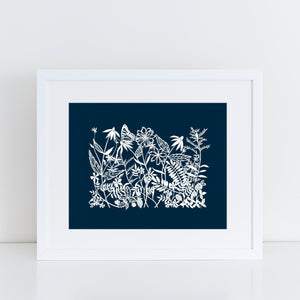 "Wildflowers for Dyeing" | Limited-Edition Art Print
Sale price Price $ 40.00 Regular price $ 40.00
Museum quality art print
Limited-edition print of an original papercut with the same name: "Wildflowers for Dyeing". The artwork was inspired by an idyllic vision of a tangled meadow full of wildflowers. Each of the flowers in the composition are traditional sources of natural dye.
Printed with archival paper and ink, the print is signed, numbered, dated and ready for framing. The print will ship packaged flat in a plastic sleeve with a foam board to protect the print during shipping.
Artwork size: 9.5 x 6.5 inches 
Paper size: 11 x 14 inches
Artwork colors: dark indigo, white
This item usually ships in 2-3 business days.
Contact us with any special requests.