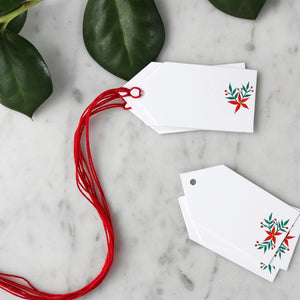 Hand-Painted Flowers | Assorted Blank Gift Tag Set
Sale price Price $ 6.50 Regular price
Add a handmade touch to your holiday packages with these hand-painted gift tags. The simple red floral design is painted by hand on cotton fiber paper with Acryla gouache.
Because the gift tags are painted by hand, variations of size, placement, and composition may exist between the cards shipped and the cards pictured.
The set of 8 cards includes two of each of the four designs and is packaged with a red string for each card.
Hand-painted on 19 pt SAVOY cotton fiber stock
Card size: 1.25 x 2.5 inches
Paper color: white
Design color: green, red
String length: 9 inches
This item usually ships in 2-3 business days. Contact us with any special requests or pricing inquiries for larger quantities.