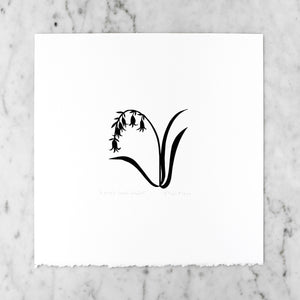 "A single sweet bluebell" No. 20
Sale price Price $ 25.00 Regular price
"Constancy" Bluebell (hyacinthoides non-scripta) 20/100
There is a silent eloquence
In every wild bluebell
That fills my softened heart with bliss
that words could never tell...
O, that lone flower recalled to me
My happy childhood's hours
When bluebells seemed like fairy gifts
A prize among the flowers...
--Anne Bronte, "The Bluebell"
Created as studies, the original pieces in the Language of Flowers collection are focused on capturing a range of flower types with paper and exploring the connection between flowers and their individual meanings. 
No. 20 is hand-cut from a single sheet of coated silhouette paper and mounted with acid-free glue on white paper with a single deckle edge.
The acid-free, original artwork is signed, dated and ready for framing. For shipping, artwork is packaged flat with a foam board in a plastic sleeve.
Artwork size: 3 inches square
Paper size: 8.75 inches square
Artwork colors: white, black
Designed and handmade by Lauren Palm for Brengare Studio