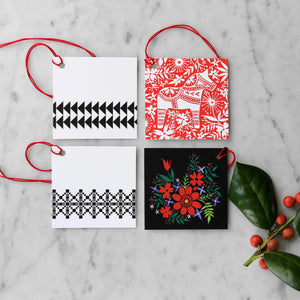 Holiday Collection | Assorted Blank Gift Tag Set
Sale price Price $ 6.50 Regular price
An assortment of coordinated gift tags including two of each of the four gift tag designs in this year's holiday collection.
The set of 8 cards is packaged with red string.
Digitally printed on #120 uncoated stock
Card size: 2.5 inches square
Card colors: white, black, red, green, blue
String length: 9 inches
This item usually ships in 2-3 business days. Contact us with any special requests or pricing inquiries for larger quantities.