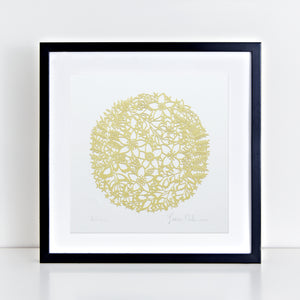 Hellebores | Original Papercut
Sale price Price $ 130.00 Regular price
Original Cut Paper Artwork
This spring vignette is hand cut from #98 slightly textured yellow paper. Overlapping fields of ferns, hellebores and delicate spring wildflowers mimic a delicate vernal garden. Cut from a single sheet of paper, this intricate paper cut is mounted with acid free glue on #80 white paper.
Acid free, original artwork is signed, dated and ready for framing.
Artwork size: 8 inches square
Paper size 11.75 inches square
Artwork colors: medium yellow, white
This item usually ships in 2-3 business days. Contact us with special requests.