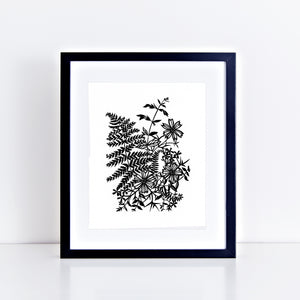 "Fern & Flowers" | Archival Art Print
Sale price Price $ 25.00 Regular price
"Fern & Flowers" is a digital print of an original papercut with the same name. The delicate design is composed around a single lady fern frond with trailing lobelia and graphic cosmos flowers. 
Printed with archival paper and ink, the print is signed, dated, and ready for framing--frame is not included. The print will ship packaged flat in a plastic sleeve with a foam board to protect the print during shipping.
Artwork size: 5.5 x 7.5 inches
Paper size: 8 x 10 inches
Artwork colors: white, black
This item usually ships in 2-3 business days.
Contact us with any special requests.